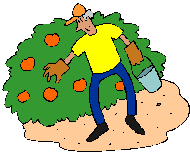 Looking for a local, pick-your-own farm in Mobile Area? Scroll down this page and you will see the U-Pick farms in Mobile Area, sorted by county. Those that offer organic or sustainably grown produce are identified by the words "organic" and/or "sustainable" in Green, next to their name. If they have a website, the name will be in blue and underlined; click on it and it will open their website.
And if you know of any I missed and want to add them or correct the information, please let me know!
What's in season in January 2018, and other timely information:
Notes for January 2018: Strawberries have a very brief season; and they start in early April in the South, May in most of the US, and early June in the North - don't miss them: See your state's crop availability calendar for more specific dates of upcoming crops. And see our guide to local fruit and vegetable festivals, such as strawberry festivals and blueberry festivals. Cold weather crops, like spinach, some lettuces, peas, kale, Brussels sprouts, broccoli, cauliflower, leeks and early onions being harvested in all but the coldest regions. Many farms and markets still have fresh winter squash, stored from last Autumn.
You may noticed the new appearance to the website! Simpler, cleaner and mobile-friendly! I'm rolling it out, page by page over the next 2 months. Everything is still here; you can access it from the drop down menus at the top of the page or the site search. If you have any questions or suggestions, feel free to write me!
Mobile Area U-Pick Farms and Orchards, by county
Click on the resources drop-down above, if you need a county map
Baldwin County
Choctaw County
Clarke County
Conecuh County
Escambia County
Marengo County
Autry Vineyards - Muscadines
17570 AL Hwy 10, Vineland, AL 36784. Phone: (334) 385-2503. Intersection Hwy 25 & 10. Approx. 16 mile South of Thomaston; 6 mile West of Pine Hill; 8 mile east of Dixon's Mills (US Hwy 43); 5 mile North of Sunny South (AL Hwy 5) Leaving intersect (25&10) Toward Pine Hill on AL Hwy 10 Look for 1st Mailbox on left. Open: September 1-October 15, 7 days a week, 8 am to sundown. Totally organic No pesticides, herbicides or commercial fertilizing. Buckets supplied. Weighed & sold by lb.
Mobile County
Betty's Berry Farm - Blueberries, Blackberries
3887 Driskell Loop Road, Wilmer, AL 36587. Phone: 251-649-1711. Email: bettysberryfarm@aol.com. Open: In season, 7 days a week, Self serve 6 am to 10 pm from May 15 to July 15. Directions: Hwy 98 West to Wilmer, AL. Turn left on Wilmer Road, to 1st paved road on right (4mi) to Howell's Ferry, turn right , go 1 mile & take 1st left onto Driskell Loop Road. Farm is on corner- Driveway is from Driskell Loop. Prices in 2011 were $1.50 per lb. There is a $5.00 minimum charge for customers over 6 years of age. This includes all you can eat while in the field. See the website for more information. (UPDATED: May 3, 2015, JBS) (UPDATED: July 07, 2013) (UPDATED: June 18, 2011)
Blue Moon Farm -

Registered naturally grown

, blueberries, flowers, picnic area (bring your own food)
13620 Tom Gaston Road, Mobile, AL 36695. Phone: 2518650252. Email: BlueMoonFarm.GrandBay@gmail.com. Open: CNG Blueberry PYO open daily in June (8am to 7pm); Call for days/hours in May/July (depends on number of ripe berries). Click here for current open hours, days and dates. Picking updates: Click here for picking updates. Directions: See website or call 865-0252 for best directions - GPS programs often do not provide best route to our farm (don't go down any dirt roads). From Airport Blvd. go west to Newman Road Turn left (south) and go 3.8 miles to Tom Gaston Road Turn right and go 1 mile. Look for greenhouse & field of flowers - turn into next driveway. Park in grass in front of our home. Click here for a map and directions. We are registered naturally grown for all crops. Payment: Cash, Debit cards, Visa/MasterCard. Click here for our Facebook page. We offer Certified Naturally Grown blueberries and thornless blackberries. We use no chemicals or pesticides. Our blueberry PYO price is $10/gallon (we supply 2-gallon buckets) and our blackberry PYO price is $2/pint (we supply 2-pint/quart containers). Farm is family-friendly with flowers, chickens, and other farm animals to view. Grass is mowed short & tables are available for a picnic lunch (bring your own food). (UPDATED: May 14, 2015) (UPDATED: May 3, 2015, JBS) (UPDATED: December 26, 2013) (ADDED: September 12, 2009)
Brannan Blueberry Brae (BBB Farm) - blueberries,
720 Grandbay Wilmer Road North, Mobile, AL 36608. Phone: 251-327-6503. Open: Closed for the 2015 Season, come see us in June 2016. Click here for current open hours, days and dates. Directions: Head west on Tanner Williams Road across Big Creek Lake Dam and take first left immediately past Tanner Williams Elementary School onto Grandbay Wilmer Road (County Road 5 South), continue 1.2 miles and turn left at the big oak tree onto Middleton Lane(there will be a sign). Travel until you reach Clark Brannan Road.Turn left and travel up the hill. Blueberry field will be on the left. Click here for a map and directions. Blueberry Field Opening Date Coming Soon. Payment: Cash, Check. $1.25 per pound. We provide buckets for picking and bags but you may bring your own. We assume no liability for injury. Pick at your own risk. Children are welcome but must be supervised at all times. We recommend picking early to avoid excessive heat. ) (UPDATED: July 7, 2015) (UPDATED: May 3, 2015, JBS) (UPDATED: June 26, 2014) (UPDATED: May 01, 2013) (UPDATED: June 02, 2012) (ADDED: June 08, 2010)
A visitor writes on July 08, 2014: "As of July 8th, they are closed for the 2014 season"
Chickasabogue Vineyard - muscadine grapes,
Old Gulfcrest Road (No street address), Citronelle, AL 36522. Phone: 251-866-5600. Open: Tuesday through Friday, 8:00 to 1:00; Saturday, 8:00 am to 6:00; Sunday, 1:00 to 6:00; Closed Mondays; Open 8:00 am to 6:00 on Labor Day. Directions: We are happy to give detailed directions over the phone. Please note that we are located on a county dirt road and do not have a street address at the field, so internet mapping services like Google and most navigation systems will not give you accurate directions. Click here for a map and directions. We usually open during the second or third week of August; The date changes every year; If you plan to visit in August, please call us to confirm we're open; The season usually ends near the end of September; Please call if you plan to come after the second week of September. Payment: Cash, Check. We are a true family business started in 1980. We have more than eleven acres of gold and purple muscadines, including Summit, the popular large gold variety. In addition to pick-your-own, we offer ready-picked. We also have several acres of organic blueberries that we sell wholesale to local markets and health food stores in Mobile and Baldwin counties. (UPDATED: May 3, 2015, JBS) (UPDATED: August 03, 2009)
Fresh Off The Farm - Tomatoes, cucumbers, yellow,red and green bell peppers, eggplant, okra, yellow squash, zucchini, purple hull peas, pink eye peas, crowder peas, butter peas, zipper peas, speckled butter beans, snap beans, pole beans, and crimson sweet watermelons
3201 Bay Road, Theodore, AL 36582. Phone: (251) 623-1868. Email: bprobertscbi@bellsouth.net. Open: Seven Days A Week 7 Am Till 6 pm U-Pick By Reservations Only. Directions: From the intersection of I-65 and I-10, go west on I-10 to next exit (Hwy 193) go south seven miles till dead ends, turn left on Laurendine Rd and go 1/2 mile to four way stop, take a right and go 1 3/4 miles to Bay road. (ADDED: July 13, 2014, JBS, ALst)
Ken Buck Farms - Peaches, corn, purple hull peas, Satsumas
7701 Ken Buck Road, Irvington, AL 36544. Phone: (251) 824-2838. Alternate phone: (251) 510-4573. Open: Monday - Saturday from 8Am - 5 pm, closed on Sunday; Approximate harvest dates are PEACHES MAY 5 - JUNE 30, SLIVER KING CORN JUNE 1 - JULY 10 PURPLE HULL PEAS - APPROXIMATELY JUNE 15 PECANS NOVEMBER 1 - DECEMBER 31, SATSUMAS NOVEMBER 15 - DECEMBER 31 . Directions: TURN SOUTH FROM I-10 AT EXIT 10 TOWARD BAYOU LA BATRE (COUNTY ROAD 39); GO 7 MILES TO KEN BUCK ROAD ON RIGHT; FARM IS ON LEFT SIDE OF KEN BUCK ROAD. (ADDED: July 13, 2014, JBS, ALst)
Oak Hill Produce - blueberries, strawberries, broccoli, corn (sweet), cucumbers, eggplant, peas, peppers, summer squash, winter squash, tomatoes, other vegetables, picnic area
7600 Grand Bay Wilner Rd, Grand Bay, AL 36541. Phone: 251-865-2001. Email: info@oakhillproduce.com. Open: Website posts availabilities daily. Directions: Interactive map. Click here for a map and directions. Website posts availabilities daily. Payment: Cash, Visa/MasterCard, SFMNP Vouchers. Also visit oakhilltreefarm.com. (UPDATED: May 3, 2015, JBS) (ADDED: June 20, 2010)
Powell Blueberry Farm - blueberries
11285 Beverly Jeffferies Hwy, Citronelle, AL. Phone: (251) 604-7372. Email: DPBlueberry@gmail.com. Open: Monday - Saturday 7Am Till Dark; Sunday: Afternoon Only. Directions: From Mobile: Hwy 45 North, Turn left at 1st trafic light in Citronelle, 3 miles turn rights on Beverly Jefferies Hwy (96) Farm is 2 mile on right. Honey coming soon; Please call or like us on Facebook for updates on availability. (ADDED: May 02, 2015, JBS)
Sunnyland Satsuma - Satsumas,
1381 Grand Bay Wilmer Road N, Mobile, AL 36608. Email: sunnylandsatsuma@aol.com. Open: Starting mid-November through Christmas on Fridays and Saturdays from 8 am until dark and Sunday from noon until dark. Directions: See their website for directions. Payment: Cash, Check. U-Pick Satsumas $1 per Pound (for 2010 season), 10 LB Minimum. Remember to bring your own clippers & containers. Scales will be available to weigh your harvest. We also have pre-picked and boxed satsumas, pecans, satsuma trees and containers also for sale. (UPDATED: May 3, 2015, JBS) (ADDED: June 30, 2011, suggested by a visitor)
Comments from a visitor on June 30, 2011: "Loved it, very friendly staff"
Monroe County
Hickory Hollow Vineyard - Muscadines 11 varieties
471 Vineyard Lane, Frisco City, AL 36445. Phone: 251-862-2701. Open: mid August to September 30, 7 days a week 8 am to 7 pm. Directions: 8 mile south of Frisco City, traveling south of Hwy 21; signs direct you into Goodway, AL & signs bring you to vineyard. Located 3 mile off Hwy 21. (UPDATED: August 10, 2008)
Sumter County
Milfred Lee Unruh - Peas, green beans, tomatoes, watermelons, okra, cantaloupes
5875 Panola Pkwy 34, Aliceville, AL 35442. Phone: (205) 455-2839. Directions: Hwy 34. Turn left from Hwy 85 (from Livingston). Third house on right Open: June 1-Sept, Monday to Saturday, 7 am to 7 pm
Washington County
Wilcox County
---
---
Local Honey Sources:
Baldwin County
Hillcrest Farm - Wildflower honey, Honey from hives on the farm, Fresh eggs, concessions / refreshment stand, restrooms, picnic area, farm animals, birthday parties
30497 Hixson Road, Elberta, AL 36530. Phone: 251-962-2500. Email: hillcrestfarmupick@yahoo.com. Open: See our facebook page for current hours. Click here for current open hours, days and dates. Directions: four miles west of Lillian Bridge on Highway 98. Click here for a map and directions. Blueberries: May 15 to July 1 Muscadine grapes: August 1 to September 15 Corn Maze: September 5 to November 1. Payment: Cash, Check. (UPDATED: September 13, 2015) (UPDATED: September 29, 2012) (UPDATED: June 22, 2011)
L.A.Berry Farms -

Uses natural growing practices

, Honey (retail), Blueberry honey, Clover honey, Sourwood honey), Tupelo honey, Comb honey, Raw honeys, Honey from hives on the farm, U-pick and already picked, farm market, concessions / refreshment stand, porta-potties, picnic area
12562 Mary Ann Beach Road, Fairhope, AL 36532. Phone: 251 928-7786. Alternate Phone: 251 421-2073. Fax: 2519281004. Email: tynes@laberryfarms.com. Open: May16th open Thursday - Saturday 8am til noon. Directions: turn south on Mary Ann Beach Road (hwy 27 so.) off highway 98 -go 8/10ths of a mile -farm on left. Click here for a map and directions. Watch us on Facebook for updates on dates /hours. We use natural practices, but are not yet certified Organic. Payment: Cash, only. (ADDED: April 30, 2013)
---
Meats, Milk and Eggs:
Baldwin County
Hillcrest Farm - Eggs (free range), Farm market with fruits and vegetables, Restrooms, children welcome, Honey from hives on the farm, Fresh eggs, concessions / refreshment stand, restrooms, picnic area, farm animals, birthday parties
30497 Hixson Road, Elberta, AL 36530. Phone: 251-962-2500. Email: hillcrestfarmupick@yahoo.com. Open: See our facebook page for current hours. Click here for current open hours, days and dates. Directions: four miles west of Lillian Bridge on Highway 98. Click here for a map and directions. Blueberries: May 15 to July 1 Muscadine grapes: August 1 to September 15 Corn Maze: September 5 to November 1. Payment: Cash, Check. (UPDATED: September 13, 2015) (UPDATED: September 29, 2012) (UPDATED: June 22, 2011)
---
Farm Venues for Events, Activities, Parties and Meetings:
Baldwin County
Hillcrest Farm - Wedding Ceremony, Birthday parties, Daycare and preschool groups, Other Private Parties, Corn maze, chickens, Beautiful rural setting, Free Onsite Lot parking lot, children welcome, No smoking allowed, Honey from hives on the farm, Fresh eggs, concessions / refreshment stand, restrooms, picnic area, farm animals, birthday parties
30497 Hixson Road, Elberta, AL 36530. Phone: 251-962-2500. Email: hillcrestfarmupick@yahoo.com. Open: See our facebook page for current hours. Click here for current open hours, days and dates. Directions: four miles west of Lillian Bridge on Highway 98. Click here for a map and directions. Blueberries: May 15 to July 1 Muscadine grapes: August 1 to September 15 Corn Maze: September 5 to November 1. Payment: Cash, Check. (UPDATED: September 13, 2015)
---
Wholesale Foods
Baldwin County
Perdido Vineyards - Local sales at our farm, Regional delivery (see below for details), National delivery, Global delivery,
22100 County Road 47, Perdido, AL 36562. Phone: 251-937-9463. Fax: 251-937-4996. Email: jimeddins@murdercreek.com. Open: Year round; Monday - Saturday; 10am to 5pm. Directions: Exit 45 Interstate 65, east 1/4 mile to 22100 County Road 47. Click here for a map and directions. Payment: Cash, Check, Visa/MasterCard. We produce 12 wine vinegars from local fruits and vegetables. Brand Name CASA PERDIDO. We produce 17 different table wines. Brand Name PERDIDO VINEYARDS. (ADDED: June 16, 2011)