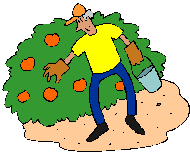 Looking for a local, pick-your-own farm in South-central Kentucky? Scroll down this page and you will see the U-Pick farms in South-central Kentucky, sorted by county. Those that offer organic or sustainably grown produce are identified by the words "organic" and/or "sustainable" in Green, next to their name. If they have a website, the name will be in blue and underlined; click on it and it will open their website.
And if you know of any I missed and want to add them or correct the information, please let me know!
What's in season in January 2018, and other timely information:
Notes for January 2018: Strawberries have a very brief season; and they start in early April in the South, May in most of the US, and early June in the North - don't miss them: See your state's crop availability calendar for more specific dates of upcoming crops. And see our guide to local fruit and vegetable festivals, such as strawberry festivals and blueberry festivals. Cold weather crops, like spinach, some lettuces, peas, kale, Brussels sprouts, broccoli, cauliflower, leeks and early onions being harvested in all but the coldest regions. Many farms and markets still have fresh winter squash, stored from last Autumn.
You may noticed the new appearance to the website! Simpler, cleaner and mobile-friendly! I'm rolling it out, page by page over the next 2 months. Everything is still here; you can access it from the drop down menus at the top of the page or the site search. If you have any questions or suggestions, feel free to write me!
South-central Kentucky U-Pick Farms and Orchards, by county
Click on the resources drop-down above, if you need a county map
Adair County
Rainy Hollow Blueberries

- blueberries,
6531 Milltown Road, Gradyville, KY 42742. Phone: 270-378-5410. Email: devans@gradyvilleky.com. Open: Monday - Friday 8 am to 5 pm for U pick (call first to verify status of crop) Saturday 8 am to 12 Noon Closed Sundays. Directions: 6.5 Miles West on highway 768 from highway 61 that runs between Columbia and Greensburg KY. Click here for a map and directions. Blueberries ripen in June; Since weather dictates exact dates and the length of the season, call in advance. Payment: Cash, Check. These are great tasting BlueBerries. We also sell berries that we pick daily. We can sell by the pound, pint or gallon. Call for current prices. This is not a certified Organic farm, but no pesticides or herbicides were used on these berries; These are lovely high-bush blueberries. Payment: Cash, only. We bought on old Amish farm and have tried to keep the look the same. (buried electric lines, etc.) We milk our own Jersey cows and raise pigs, chickens and a large garden. (ADDED: June 09, 2010)(UPDATED: April 23, 2012)
Bell County
Casey County
Earlydawn Homesteading

- strawberries, blueberries, tomatoes, peppers, and corn, Fresh eggs
206 Ky, Dunnville, KY 42528. Phone: 606-787-2905. Email: early_dawn499@msn.com. Open: In season (May/June) from 9:00am until dark. Directions: Click here for a map and directions. Payment: Cash, only. Strawberries are typically ready in April; Blueberries are typically ready in June. We are updating new items for sale on our uncertified organic farm. We are adding some fun activities for children this summer: bird house making, bird feeder making, and many other ideas not yet discovered. please call for more information and location and new ideas to come this new year. thank you and happy shopping. (ADDED: July 05, 2012) (UPDATED: January 27, 2013) (UPDATED: June 08, 2013)
Rainbow Harvest Farm - blackberries, blueberries, raspberries (Autumn, red), strawberries, prepicked produce, farm market, gift shop, snacks and refreshment stand
175 East Brushy Branch Road, Liberty, KY 42539. Phone: 606-787-9142. Email: info@rainbowharvestfarm.net. Directions: From Liberty, take 70 West to mile marker #7, turn left (Martin Road). Go 1/2 mile to East Brushy Branch Road and turn right. All the way back to the barn with the bright blue roof! Just follow the signs. Open: From June 1st until October 31st we are open 7 days a week from 8:00 am until 4:00 pm All other dates, call to get jams, jellies, juice and gift boxes. Strawberries are available from June 1st until first frost in October; Blueberries in June and July, Blackberries from late June till mid-August, and raspberries from August 1st until first frost in October. Payment: Cash, Check. We carry a full line of jams and jellies, both regular and sugar free. We also produce fruit juices. We also have gift boxes available for presents. (UPDATED: May 22, 2015, JBS) (ADDED: February 24, 2009)
Clay County
Clinton County
Cumberland County
Green County
Jackson County
Knox County
Laurel County
Lincoln County
McCreary County
Metcalfe County
Monroe County
Pulaski County
Burnside Florist And Greenhouses - blueberries, blackberries, raspberries,
5780 South Highway 27, Somerset , KY 42501. Phone: 606-271-0342. Email: Burnsidegreenhouse@gmail.com. Directions: Six miles south of Somerset, Kentucky on south US27. 1/4 mile past traffic light #29 on left. And for a map to our farm, click here. Crops are usually available in June, July, August, September, October. Open: "Monday to Sunday 8am to 5:30 pm". Payment: Cash, Check, Visa/MasterCard, Discover. We also sell blueberry, blackberry, and raspberry plants. (ADDED: May 16, 2008) (UPDATED: December 21, 2009)
Haney's Appledale Farm - pumpkins, PYO apples
8350 West 80, Nancy, KY, 42544-8756. Phone: 606-636-6148. Email: haney_1@charter.net. Open: March to Dec, Monday through Saturday, 8:30am to 5:30pm; Sunday, 1pm-5:30 pm. Directions: 8 miles west of Somerset on KY, Hwy 80., sweet corn, green beans, melons in season. Apple cider, apple cider slushies (in season), bakery items, jams, jellies, honey, sorghum, candies. Gift shop items. Food & drink. Farm tours, school tours (school days only), restrooms.(UPDATED: May 23, 2015, JBS)
Wilson's Cedar Point Farm - blackberries, strawberries, Upick and pre-picked strawberries.
66 Garfield Tarter Rd, Nancy, KY 42544. Phone: 606-305-8762. Alternate Phone: 606-305-6647. Email: wilsonscedarpointfarm@gmail.com. Open: every day from 9am to 8pm during the 2010 strawberry picking season; We foresee being open til the end of May possibly longer. Directions: From Somerset, take the Cumberland Parkway west. Exit at the Nancy exit. Take a right off the exit ramp. Travel about 4.5 miles to highway 837. Take a left onto highway 837. Drive 2 miles. Look for signs. We are located just behind Cedar Point Baptist Church on the left. Click here for a map and directions. We open May 10 for the 2010 strawberry picking season; The season usually lasts about a month. Payment: Cash, Check. We are also offering CSA shares for the 2010 growing season. It's not too late to take part in this. See our website for more information. Click here for our Facebook page. (UPDATED: May 23, 2015, JBS) (UPDATED: May 13, 2011) (ADDED: July 14, 2008)
Rockcastle County
Sigmon Farms - Homegrown Mixed Vegetables, Pumpkins, Pumpkin Festival, Farm Tours.
477 Rimmell Cemetery Road Mt. Vernon, KY 40456. Phone: 606- 256-2781. Email: leannsigmon@hotmail.com. Open: 9am- 9pm. A visitor suggested this farm, saying they have "a variety of home grown products ,Beef Cattle, Hogs, Goats, Garden Plants, alfalfa and Mixed Hay, Straw and Field Corn. Provide farm tours for school children and special education children. Produce top notch Alfalfa hay and mixed orchard grass. Grow beef cattle and meat hogs. Also have a large number of goats. (UPDATED: October 02, 2009)
Comments from a visitor on July 30, 2008: "I love the farm. They are a nice, hard working family. " (ADDED: July 30, 2008)
Russell County
French Valley Farms - U-pick blueberries, pumpkins, mums, gourds, Indian corn.
1842 N. Main Street, Jamestown, KY, 42629. Phone: 270-343-5052. Email: drexroat@russell.k12.ky.us. Open: Apr-Nov, Monday through Friday, 10am to 5pm; Saturday, 8am to 5pm; Sunday, 1pm-5pm; (Central Time Zone). Directions: From Louie Nunn Parkway, take Exit 62 onto US 127 south toward Jamestown. Market is 6 miles south in Jamestown at stop light. Mums/Pumpkins Weekends-first two weekends in October. Giant pumpkin giveaway each weekend. (UPDATED: May 23, 2015, JBS)
Triple Creek Berry Farm - blueberries, raspberries (red), raspberries (yellow), raspberries (black), U-pick and already picked, farm market
3805 West Highway 80, Russell Springs, KY 42642. Phone: 270-507-6292. Email: info@triplecreekberryfarm.com. Open: Thursday to Saturday, from 6 am to 1 pm; June 15 to August 15; Closed Sunday to Wednesday. Click here for current open hours, days and dates. Directions: From Russell Springs, drive west on Highway 80 for 3.5 miles. Farm is on the left, next to West 80 Church of God and across the road from Bethlehem Baptist Church. From Columbia, drive east on Highway 80. Farm is at the Russell/Adair county line on the right hand side. Click here for a map and directions. Payment: Cash, only. We are a Kentucky Proud farm, use organic methods to grow our berries, so no chemical pesticides are used. We will pick for you, just call to schedule a time to pick up your berries. We have berry bushes for sale, and will conduct educational tours at your request. (UPDATED: April 17, 2011) (ADDED: April 11, 2010)
Taylor County
Burton's Garden Center - U-pick blackberries
2212 Saloma Road, Campbellsville, KY, 42718. Phone: 270-789-1239. Fax: 270-789-1239. Email: burtonsnursery270@alltel.net. Open: Apr to October, Monday through Saturday, 8am to 8pm; Closed Sun. Directions: Two miles north of Campbellsville on KY, 527. Tours: school, adult day care, and Homeland & Heartland Extension. Restrooms.
Wayne County
Whitley County
Double Hart Farm - U-pick strawberries, tomatoes, and green beans
6550 Cumberland Falls Road, Corbin, KY, 40701. Phone: 606-523-0465. Open: May to September, Monday through Saturday, 9am to 5pm. Directions: 5 miles south of Corbin KY, on US 25W; or 5 miles south of I-75 Exit 25 on US 25W toward Cumberland Falls State Park.
---
---
Local Honey Sources:
Adair County
Heavenly Haven Farm - Honey (retail), Tours, Fresh eggs, gift shop, snacks and refreshment stand, restrooms, picnic area, petting zoo, farm animals, birthday parties, school tours
230 Heavenly Lane, Columbia, KY 42728. Phone: 270-465-9597. Alternate Phone: 270-789-9032. Fax: 270-789-3407. Email: heavenlyhavenfarm@hotmail.com. Open: Heavenly Haven Farm is open September 4 through November 7; Our hours are Monday through Thursday 9 am to 6 pm, Friday and Saturday 9 am to 10 pm and Sunday 1 pm to 8 pm. Click here for current open hours, days and dates. Honey updates: Click here for updates. Directions: From Campbellsville: Turn onto highway 70 at light #5 (next to the Library) Go approximately 5 miles & take a right onto highway 76 travel 4.5 miles & turn right onto Gumm Road You will go about 1 mile & turn left onto Genesis Road Go 7 tenths of a mile and turn right down Heavenly Lane. *Watch for signs, they will point you rite where you need to go! For directions from other places just call 270-465-9597 or visit our website!. Click here for a map and directions. We will be selling produce at the Taylor County Farmer's Market starting in May We will be there every Saturday 8am to 2pm until the market closes in October; Opening September 4 on the farm with hay rides, a pumpkin patch, corn maze and petting zoo; Our hours are Monday through Thursday 9am to 6pm, Friday and Saturday 9am to 10pm and Sunday 1pm to 8pm; For school groups or any other large groups please call in advance!. Payment: Cash, Check, WIC Vouchers, SFMNP Vouchers. (ADDED: April 22, 2010)
Whitley County
Sally Gap Punkin Patch

- Honey (retail), Orange blossom honey, Wildflower honey, Comb honey, Raw honeys, Other honey products, Honey from hives on the farm, Fresh eggs, gift shop, concessions / refreshment stand, porta-potties, face painting, pony rides, petting zoo, farm animals, birthday parties, school tours
445 Louden Road, Williamsburg, KY 40769. Phone: 606-524-4722. Alternate Phone: 606-304-5587. Open: We will have honey from July. Directions: From Williamsburg, to Highway 92E, once on Highway 92E, go approximately 9 mile to Louden Bridge. Turn right on to Louden bridge. We are just across the bridge on the right. or gps us at 455 Louden Road Williamsburg Ky. Click here for a map and directions. Payment: Cash, only. (ADDED: April 30, 2013)
---
Meats, Milk and Eggs:
Adair County
Heavenly Haven Farm - Beef, Lamb, No antibiotics used, 100% grass and/or grain fed, snacks, refreshments and/or concessions, Eggs (free range), Farm market with fruits and vegetables, Hiking trails, Within an easy drive to an Interstate road, Farm/ranch tours for visitors, School tours, children welcome, Fresh eggs, gift shop, snacks and refreshment stand, restrooms, picnic area, petting zoo, farm animals, birthday parties, school tours
230 Heavenly Lane, Columbia, KY 42728. Phone: 270-465-9597. Alternate Phone: 270-789-9032. Fax: 270-789-3407. Email: heavenlyhavenfarm@hotmail.com. Open: Heavenly Haven Farm will be at the Taylor County Farmer's Market starting in May We will be selling beef and lamb while there; The hours are every Saturday 8 am to 2 pm. Click here for current open hours, days and dates. Updates: Click here for updates. Directions: From Campbellsville: Turn onto highway 70 at light #5 (next to the Library) Go approximately 5 miles & take a right onto highway 76 travel 4.5 miles & turn right onto Gumm Road You will go about 1 mile & turn left onto Genesis Road Go 7 tenths of a mile and turn right down Heavenly Lane. *Watch for signs, they will point you rite where you need to go! For directions from other places just call 270-465-9597 or visit our website!. Click here for a map and directions. We will be selling produce at the Taylor County Farmer's Market starting in May We will be there every Saturday 8am to 2pm until the market closes in October; Opening September 4 on the farm with hay rides, a pumpkin patch, corn maze and petting zoo; Our hours are Monday through Thursday 9am to 6pm, Friday and Saturday 9am to 10pm and Sunday 1pm to 8pm; For school groups or any other large groups please call in advance!. Payment: Cash, Check, WIC Vouchers, SFMNP Vouchers. We also sell locally produced cheese. (ADDED: April 22, 2010)
Casey County
Earlydawn Homesteading

- Chicken (free range), Duck, Beef, Pork, No hormones used, No antibiotics used, 100% grass and/or grain fed, 100% mixture of corn, grain, soybeans and/or other natural supplemental feeds, Eggs (free range), Brown eggs, Specialty eggs (see below), No pets please, Fresh eggs
206 Ky, Dunnville, KY 42528. Phone: 530-908-6862. Email: early_dawn499@msn.com. Open: all year long; call or email for hours and availability. Directions: Click here for a map and directions. Payment: Cash, only. We are a small family farm. We also have soap classes, cheese classes, and anything elso that might be farm relateld. we have many things coming up. We do not do the soap or the cheese making classes until fall and early s pring due to the heat index. feel free to e-mail and we will respond with what is available at the time. due to weather and other aspects of farming day to day is how we decide what is available for folks interested in the items we have to offer. thank you all and God Bless you. Early Dawn Homestead of Ky. (ADDED: July 05, 2012)
Wayne County
Jennings Hollow Farm -

Uses natural growing practices

, Chicken (free range), Turkey, Pork, Lamb, USDA Natural, No hormones used, No antibiotics used, 100% grass and/or grain fed, Eggs (free range), Brown eggs, Wedding facilities, Hiking trails, Farm/ranch tours for visitors, School tours, children welcome, Turkeys (organic, not-hormone-fed), Fresh eggs, restrooms, farm animals, birthday parties, weddings and wedding parties, school tours
1134 Jennings Hollow Road, Monticello, KY 42633. Phone: (606)340-9376. Email: chase@jenningshollowfarm.com. Open: year - round, just call ahead to make sure someone is home!. Directions: Click here for a map and directions. We use natural practices, but are not yet certified Organic. Payment: Cash, Check. Click here for our Facebook page. (ADDED: December 27, 2012)
Whitley County
Sally Gap Punkin Patch

- Eggs (free range), Brown eggs, Honey from hives on the farm, Fresh eggs, gift shop, concessions / refreshment stand, porta-potties, face painting, pony rides, petting zoo, farm animals, birthday parties, school tours
445 Louden Road, Williamsburg, KY 40769. Phone: 606-524-4722. Alternate Phone: 606-304-5587. Open: Monday - Thursday Scheduled tours only; Friday - Saturday, Open 10:00am to Dark, for everyone; Mid September - October 31. Directions: From Williamsburg, to Highway 92E, once on Highway 92E, go approximately 9 mile to Louden Bridge. Turn right on to Louden bridge. We are just across the bridge on the right. or gps us at 455 Louden Road Williamsburg Ky. Click here for a map and directions. Payment: Cash, only. (ADDED: April 30, 2013)
---
Farm Venues for Events, Activities, Parties and Meetings:
Adair County
Heavenly Haven Farm - Birthday parties, School and educational groups, Daycare and preschool groups, Other Private Parties, You may bring your own food, Some Tables and chairs are provided, Bring your own linens and table silverware, Hotel nearby, Motel nearby, Corn maze, Pumpkin patch, steers/cattle, sheep, goats, horses, chickens, pigs, llamas/alpacas, other animals, Beautiful rural setting, Hiking trails, Fishing nearby, boating nearby, Free Onsite Lot parking lot, Within an easy drive to an Interstate road, children welcome, No smoking allowed, Smoking allowed in designated areas, Fresh eggs, gift shop, snacks and refreshment stand, restrooms, picnic area, petting zoo, farm animals, birthday parties, school tours
230 Heavenly Lane, Columbia, KY 42728. Phone: 270-465-9597. Alternate Phone: 270-789-9032. Fax: 270-789-3407. Email: heavenlyhavenfarm@hotmail.com. Open: Heavenly Haven Farm is open September 4 through November 7; Our hours are Monday through Thursday 9 am to 6 pm, Friday and Saturday 9 am to 10 pm and Sunday 1 pm to 8 pm. Click here for current open hours, days and dates. Venue updates: Click here for updates. Directions: From Campbellsville: Turn onto highway 70 at light #5 (next to the Library) Go approximately 5 miles & take a right onto highway 76 travel 4.5 miles & turn right onto Gumm Road You will go about 1 mile & turn left onto Genesis Road Go 7 tenths of a mile and turn right down Heavenly Lane. *Watch for signs, they will point you rite where you need to go! For directions from other places just call 270-465-9597 or visit our website!. Click here for a map and directions. We will be selling produce at the Taylor County Farmer's Market starting in May We will be there every Saturday 8am to 2pm until the market closes in October; Opening September 4 on the farm with hay rides, a pumpkin patch, corn maze and petting zoo; Our hours are Monday through Thursday 9am to 6pm, Friday and Saturday 9am to 10pm and Sunday 1pm to 8pm; For school groups or any other large groups please call in advance!. Payment: Cash, Check, WIC Vouchers, SFMNP Vouchers. (ADDED: April 22, 2010)
Laurel County
Hillview Stables LLC - Wedding Ceremony, Wedding Reception, Wedding Rehearsal Dinner, Birthday parties, Corporate events, Filming or photo shoots, School and educational groups, Daycare and preschool groups, Other Private Parties, You may bring your own food, Tables and chairs are Provided , Hotel nearby, Motel nearby, Corn maze, Pumpkin patch, sheep, goats, horses, chickens, pigs, llamas/alpacas, other animals, Horse riding at the farm, Free Onsite Lot parking lot, Within an easy drive to an Interstate road, concessions / refreshment stand, restrooms, pony rides, petting zoo, farm animals, birthday parties, weddings and wedding parties, school tours
804 Westerfield Road, London, KY 40744. Phone: 606-878-0563. Alternate Phone: 606-524-4994. Open: by appointment. Click here for current open hours, days and dates. Directions: Traveling South on Interstate 75 Take Exit 38 London, KY turn left off ramp Traveling North take right off ramp and proceed to highway 229 at Flea Land Flea market and turn right. Proceed 10 miles on Highway 229. Turn right on the Dan Westerfield Road Stables is located on the right. Click here for a map and directions. Payment: (ADDED: September 25, 2012)
Wayne County
Jennings Hollow Farm -

Uses natural growing practices

, Wedding Ceremony, Banquets / Dinners, Birthday parties, Filming or photo shoots, Classes, lectures or Speakers, School and educational groups, Daycare and preschool groups, You may bring your own food, Bring Your Own Tables and chairs, Bring your own linens and table silverware, BYO alcohol, B&B nearby, Vegetables, or bush fruit, Pumpkin patch, dairy cows, goats, horses, chickens, pigs, Beautiful rural setting, Hiking trails, Fishing nearby, boating nearby, Internet (Wireless), Phone available, Bride and groom dressing areas available, children welcome, Turkeys (organic, not-hormone-fed), Fresh eggs, restrooms, farm animals, birthday parties, weddings and wedding parties, school tours
1134 Jennings Hollow Road, Monticello, KY 42633. Phone: (606) 340-9376. Email: chase@jenningshollowfarm.com. Open: year - round, just call ahead to make sure someone is home. Directions: Click here for a map and directions. We use natural practices, but are not yet certified Organic. Payment: Cash, Check. Click here for our Facebook page. (ADDED: December 27, 2012)
---
Horse Rides and More:
Whitley County
Sally Gap Punkin Patch

- horse-drawn hayrides, Horse-drawn sleigh rides (weather permitting), Honey from hives on the farm, Fresh eggs, gift shop, concessions / refreshment stand, porta-potties, face painting, pony rides, petting zoo, farm animals, birthday parties, school tours
445 Louden Road, Williamsburg, KY 40769. Phone: 606-524-4722. Alternate Phone: 606-304-5587. Open: We work our farm with horses; We do have hay days and plow days; Call for days and times. Directions: From Williamsburg, to Highway 92E, once on Highway 92E, go approximately 9 mile to Louden Bridge. Turn right on to Louden bridge. We are just across the bridge on the right. or gps us at 455 Louden Road Williamsburg Ky. Click here for a map and directions. Payment: Cash, only. (ADDED: April 30, 2013)