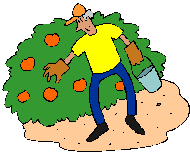 Looking for a local, pick-your-own farm in Western Kentucky? Scroll down this page and you will see the U-Pick farms in Western Kentucky, sorted by county. Those that offer organic or sustainably grown produce are identified by the words "organic" and/or "sustainable" in Green, next to their name. If they have a website, the name will be in blue and underlined; click on it and it will open their website.
And if you know of any I missed and want to add them or correct the information, please let me know!
What's in season in January 2018, and other timely information:
Notes for January 2018: Strawberries have a very brief season; and they start in early April in the South, May in most of the US, and early June in the North - don't miss them: See your state's crop availability calendar for more specific dates of upcoming crops. And see our guide to local fruit and vegetable festivals, such as strawberry festivals and blueberry festivals. Cold weather crops, like spinach, some lettuces, peas, kale, Brussels sprouts, broccoli, cauliflower, leeks and early onions being harvested in all but the coldest regions. Many farms and markets still have fresh winter squash, stored from last Autumn.
You may noticed the new appearance to the website! Simpler, cleaner and mobile-friendly! I'm rolling it out, page by page over the next 2 months. Everything is still here; you can access it from the drop down menus at the top of the page or the site search. If you have any questions or suggestions, feel free to write me!
Western Kentucky U-Pick Farms and Orchards, by county
Click on the resources drop-down above, if you need a county map
Allen County
Ballard County
Barren County
Butler County
Caldwell County
Calloway County
Carlisle County
Christian County
Christian Way Farm - peaches, pumpkins, gift shop, restrooms, picnic area, farm animals, school tours
19590 Linville Road, Hopkinsville, KY 42240. Phone: 270-269-2434. Fax: 270-269-8100. Email: christianwayfarm@aol.com. Directions: From Hopkinsville travel 13 miles on Highway 107 to left on Highway 800. Follow signs for 1.7 miles to Linville Road. Left on Linville. Right into farm driveway. And for a map to our farm, click here. Crops are usually available in July, August, September, October. Open: April thru July for Spring/Summer scheduled farm tours. September thru October for scheduled weekday farm tours. Open Saturdays September and October to the public from 10 am to 5 pm. Payment: Cash, Check. Spring tours emphasize teaching visitors about how farmers grow our food. Theme rotates each each. Spring 2007 will teach about the ingredients for a hamburger and french fry meal.(UPDATED: May 22, 2015, JBS)
Lost Valley Farm - strawberries, pumpkins, corn maze
3867 State Route 175N, Bremen, KY, 42325. Phone: (270) 525-9720. Open: Early May - strawberries. Jun 1-Nov 1, M/ W/F & Sat; 1pm-6pm. October 1-October 31: Please call to arrange tours in Oct. Directions: 3 one half miles west of Bremen on Highway 175 N. U-Pick: Strawberries, upon request. October - Group tours to corn maze and pumpkin patch. School tours, hay rides, air-conditioned market, bathroom with hot water.
Crittenden County
Daviess County
5 Acre Farm - beans, blackberries, corn (sweet), cucumbers, peppers, tomatoes,
2400 West Parrish Avenue, Owensboro, KY 42301. Phone: 270-880-9925. Alternate Phone: 270-993-4271. Email: tandybramschreiber@gmail.com. Open: Thursday to Sunday 9am to 4pm June 1 to October 30. Directions: We are located on Parrish Avenue West before you reach Moonlite restaurant. Up on the hill is were our greatness is grow and sold!. Click here for a map and directions. Payment: Cash, Check. I believe that greatness starts with the right seed. all of our seed is saved from year to year. The original seed for my beans came many years back in the Appalachian Mountain region. These green beans are meant to be picked by hand not machine. and because of that they are tender and delicious. (ADDED: August 20, 2014)
Blueberries of Daviess County -blueberries
Hill Bridge Road, 270-929-8083, Utica, KY 42376 Home Phone: 270-926-6510. Email: blueberriesofdaviesscounty@yahoo.com. Open: June and July, U-Pick or We pick on Monday, Wednesday, Friday, and Saturday from 8 am-5 pm. Click here for a link to our Facebook page. (UPDATED: May 21, 2015, JBS) (UPDATED: June 19, 2008)
Reid's Orchard - apples, strawberries, peaches, horse and wagon rides, gift shop, concession stand (drinks, snacks and/or food), picnic area, pumpkins (brought in from the field), Bouncy castle or moon bounce, petting zoo, birthday parties, weddings and wedding parties, tours of the operation, group tours
4812 Kentucky 144, Owensboro, KY 42303. Phone: (270) 685-2444. Open: Kentucky Proud Reid's Orchard Mon - Sat 8:00 am - 7:00 pm Sun: 10:00 am - 5:00 pm . Directions: From Owensboro take Hwy 60E to Ky Hwy. 144 We are about 1 mile on 144. See their website for directions. Payment: Cash, Check, Debit cards, Visa/MasterCard . (UPDATED: May 22, 2015, JBS) (UPDATED: August 10, 2013, by a visitor)
A visitor writes on August 10, 2013: "Great - local people."
Edmonson County
Fulton County
Graves County
The Berry Farm -

Minimizes chemical and pesticide use

, strawberries, U-pick and already picked, porta-potties, picnic area
2966 Hudson Road, Fulton, KY 42041. Phone: 270-468-0110. Alternate Phone: 270-970-1000. Email: theberryfarm@verizon.net. Open: Monday to Saturday, 7 am to 7 pm usually mid April to early June; Please see our website for exact opening day. Directions: signs can be found at the intersection of highway 45 & highway 94 (Water Valley), the intersection of State Line Road & Kingston, the intersection of State Line Road & Old Bethel Church Road, and the intersection of 129S & Hudson Road. Click here for a map and directions. We minimize use of pesticides and other chemicals. Payment:

Cash, check, major credit cards. Click here for our Facebook page. We would love to have you visit our farm! We grow Chandler strawberries using the plasticulture method. Please call to reserve your pre-picked strawberries as we sell out every day. We will deliver (minimum 5 flats) within a 30 mile radius. Please call for details. (UPDATED: April 06, 2016)

(UPDATED: May 23, 2015, JBS) (UPDATED: April 17, 2013)
Grayson County
VanMeter Family Farm - strawberries,
164 Old Peonia Loop Road, Clarkson, KY 42726. Phone: 270-242-9056. Email: dan.strawberryman@gmail.com. Open: Tuesday and Saturday, from 1pm to 8pm; Call for appointment for other days; Closed Sunday. Directions: From Clarkson travel 8 miles south on Highway 88. Take the first blacktop road to the left just past Antioch General Baptist Church. Van Meter Family Farm is the 2nd drive on the left. Click here for a map and directions. We grow 2 acres of Chandler and Sweet Charlie strawberries by the plasti-culture method; Pre-picked sales begin the last week in April; Pick your own opportunities begin the first week in May. Payment: Cash, Check. (UPDATED: May 22, 2015, JBS) (ADDED: December 17, 2009)
Hancock County
Happy Hollow Blueberry Farm -

No pesticides are used

, blueberries,
1000 Happy Hollow Road, Hawesville, KY 42348. Phone: 270-315-7766. Email: info@happyhollowblueberries.com. Open: Early June through mid July; Hours are 7 days a week from 9am to 7pm for the berries; For plants we are open year round we ship bare roots in the fall and winter and containers locally in the spring and summer; Recommend calling or emailing outside of harvest timeframe to ensure we can provide service. Directions: From highway 60 in Hawesville turn on highway 69 south, take the 1st left on state route 1265 also known as Happy Hollow Road. follow exactly 1 mile turn left at 1000 Happy Hollow Road. Coming from 69 North turn right onto state route 1265, the last road before reaching highway 60. Click here for a map and directions. Blueberries are generally from the first of June through mid July in our ar Saturday, but can vary a week earlier or later depending on the spring weather. We do not use pesticides on the crops. Payment: Cash, Check, Debit cards, Visa/MasterCard, Discover, AmEx, SFMNP Vouchers. Click here for our Facebook page. (ADDED: May 22, 2015)
Hart County
Blueberry Croft Farm and Nursery -

No pesticides are used

, blueberries,
710 Jericho Church Road, Cub Run, KY 42729. Phone: (270) 908-0703. Email: sales@blueberrycroft.com. Open: Closed Sundays; Open June and July, by appointment only; Call to see if blueberries are available. Click here for current open hours, days and dates. Picking updates: Click here for picking updates. Directions: 1. Take KY-88 W/Cub Run highway out of Cub Run, Kentucky 2. Stay 1.1 miles on Kentucky-88 3. Slight right onto Roseburg Road 4. Proceed 1.2 miles on Roseburg 5. Take the 1st right, onto Jericho Church Rd 6. Continue 0.3 miles to the farm. Click here for a map and directions. We do not use pesticides on the crops. Payment: Cash, only. Blueberry plants for sale. (UPDATED: May 23, 2015, JBS) (ADDED: June 28, 2010)
Dennison's Roadside Market - U-Pick strawberries, blackberries and pumpkins.
5824 S Jackson Hwy, Horse Cave, KY 42749. Phone: (270) 786-1663. Fax: (270) 786-5884. Email: pbden@scrtc.com. Open: Apr-October 31, Monday to Saturday 9 am to 5pm; Sunday, 12pm-6pm, strawberries in April and May, Blackerries in May (usually). Directions: From I-65, take Horse Cave Exit 58. Take KY 218 east 6 one half miles to US 31E. Turn left, go 1 mile on 31E. Market is on the right. From Glasgow, 12 miles north on US 31E. Antique Tractor Show - Sep 24-25. Hayrides available in fall, petting zoo, straw tunnel. Restrooms. (UPDATED: May 23, 2015, JBS)
Henderson County
High Hill Orchard - peaches, blackberries, strawberries
1018 Alves Ferry Road, Henderson , KY 42420. Phone: 270-748-4597. Open: You-pick berries hours: Saturdays and Wednesdays 7:30-4:00 and by appointment, Summer and early fall, most days. Payment: cash, credit cards. Peaches and Blackberries come in around July 4. (UPDATED:May 1, 2015, JBS) (UPDATED: June 07, 2014, from their website)
Comments from a visitor on July 24, 2009: "They have a variety of fruits and vegetables. It is my favorite place to buy produce. The owners are very nice and accommodating. You can pick your own at a reduced price or they have them already picked." (ADDED: July 24, 2009, suggested by a visitor)
Hillcrest Baskets & Greenhouse - blackberries, strawberries, flowers, herbs/spices, lavender, peppers, pumpkins, summer squash, winter squash, already-picked produce (of the pyo crops), gift shop, farm animals, school tours, events at your location (call for info)
4201 Anthoston-frog Island Rd, Henderson , KY 42420. Phone: 270 827 2275. Alternate Phone: 270-577-7575. Fax: 270 827 2275. Email: karenhillcrest@excite.com. Open: April - October as in season for each crop; Open Fridays and by appointment; 9 am to 4pm Basket shop open year round. Picking updates: Click here for picking updates. Directions: Click here for a map and directions. Payment: Cash, Check, Debit cards, Visa/MasterCard, Discover. Click here for our Facebook page. Handmade Kentucky-Crafted baskets, classes on weaving and caning. Garden classes for children and adults. Farm animal petting and feeding educational tour. Greenhouse packs full of flowers, bedding plants, herbs and landscape shrubs. Fresh from the Garden produce. (UPDATED: May 23, 2015, JBS) (ADDED: January 07, 2011)
Hickman County
Hopkins County
Hanson Berry Farms - strawberries, pumpkins, honey
3178 Eastlawn Rd, Madisonville, KY 42431. Phone: 270-322-8110. Email: info@hansonberryfarms.com. We have Strawberries, Honey,
Produce, Community Supported Agriculture (CSA), Greenhouse, Mums, Pumpkin Patch/ Events and yes Pumpkin Chunkin! We occasionally have someone wanting to u pick but mostly we pick and we maintain a list in the spring. If your interested in strawberries send us an email with your contact info and we will include you in our email list and let you know when our crop is ready. (ADDED: June 13, 2015, JBS)
Livingston County
Logan County
Lyon County
Marshall County
McCracken County
McLean County
Muhlenberg County
Ohio County
Simpson County
Todd County
Trigg County
Union County
Warren County
Berrylicious Orchard - blackberries, blueberries,
531 Clay Starks Road, Woodburn, KY 42170. Phone: 270-392-0211. Email: Berryliciousorchard@yahoo.com. Open: Click here for current open hours, days and dates. Directions: Click here for a map and directions. Payment: Cash, Check. (UPDATED: May 23, 2015, JBS) (ADDED: May 23, 2013)
Jackson's Orchard and Nursery - U-Pick apples, peaches and pumpkins; Corn maze, straw castle, wagon rides.
1280 Slim Island Road, Bowling Green, KY 42101. Phone: (270) 781-5303. Directions: North on Route 185 out of Bowling Green. 2 miles from city, cross Barren River. 200 yards past river bridge, Jackson's sign on left. Follow signs. Open Monday-Saturday mid-April through August and seven days a week September through November (8am-6pm Mon.-Sat., 1-6pm Sun.) Our customers can pick their own apples starting Labor Day weekend through mid-October. Restrooms available. Picnic area. Concessions with fried pies, apple cider slushes, ice cream, hot dogs, soft drinks, carmel apples. Credit cards accepted in gift shop. Cash only at concessions and fall activities. Fall corn maze, hay rides, petting farm, inflatables, straw castle, face painting. School tours: Sep & Oct. (UPDATED: May 23, 2015, JBS) (UPDATED: January 12, 2009)
Comments from a visitor on January 12, 2009: "It is very popular."
Jones Strawberries -

Minimizes chemical and pesticide use

, strawberries, prepicked produce
382 Mt. Union Church Road, Smiths Grove, KY 42171. Phone: 270-563-2267. Fax: 270-563-2267. Email: Toddjones270@windstream.net. Directions: Take Highway 101 South out of Smiths Grove, KY approximately 4 miles to Highway 1297. Make a left on to Highway 1297. Go 2 miles to Mt. Union Church Road. Look for the Saylor Golf Cart sign. First driveway on the left. From Glasgow, take Highway 1297 to the Barren County/Warren County Line and continue less than 2 miles to Mt. Union Church Road. Take a Left. Look for the Saylor Golf Cart sign. First driveway on the left. And for a map to our farm, click here. Crops are usually available in May. Open: at 8 during the week and 7:00 am on Saturday; No Sunday picking; (Central Time Zone). In 2008 we had Strawberries the second week of of May through the first week of June; We hope that we will also have the berries the same time frame in 2009. We minimize use of pesticides and other chemicals. Payment: Cash, Check. (UPDATED: May 23, 2015, JBS) (ADDED: February 10, 2009)
Webster County
---
---
Local Honey Sources:
McLean County
Happy Hollow Farms - Honey (retail), Honey (wholesale), Comb honey, Honey from hives on the farm, concessions / refreshment stand, porta-potties, picnic area, face painting, farm animals, birthday parties, school tours
9730 State Route 136 West, Calhoun, KY 42327. Phone: 270-499-3774. Alternate Phone: 859-559-7005. Email: HappyHollowFarms1@yahoo.com. Open: Sunday through Friday, from 10 am to 6 pm; Saturday from 8 am to 6 pm. Directions: Located just outside of Calhoun Kentucky in Beechgrove on State Route 136 West. Click here for a map and directions. Corn maze, Corn Activity Center and hay rides are open Septermber 15th through October 31st; Hayrides operate on Saturdays and Sundays only. Payment: Cash, Check. Visit us on Facebook for our special weekend Fall events. (ADDED: September 14, 2012)
Warren County
River Cottage Farm - Honey (retail), Raw honeys, Pollen, Fresh eggs, gift shop, farm animals
5635 Blue Level Road, Rockfield, KY 42274. Phone: 270-796-2662. Alternate Phone: 317-413-7709. Email: debbie@rivercottagefarm.net. Open: Tuesday through Saturday 10:00am to 5:00pm. Directions: Click here for a map and directions. Payment: Cash, Check. River Cottage Farm Wool Products Roving Yarn Knitted items. (ADDED: May 25, 2011)
---
Meats, Milk and Eggs:
Warren County
River Cottage Farm - Chicken (free range), Turkey, Beef, Lamb, No hormones used, No antibiotics used, 100% Grass fed (includes finishing), Eggs (organic, free range, vegetarian fed), Brown eggs, Bacon (pork), Within an easy drive to an Interstate road, Farm/ranch tours for visitors, School tours, children welcome, Fresh eggs, gift shop, farm animals
5635 Blue Level Road, Rockfield, KY 42274. Phone: 270-796-2662. Alternate Phone: 317-413-7709. Email: debbie@rivercottagefarm.net. Open: Tuesday through Saturday 10:00am to 5:00pm. Directions: Click here for a map and directions. Payment: Cash, Check. River Cottage Farm Wool Products Roving Yarn Knitted items. (ADDED: May 25, 2011)
---
Farm Venues for Events, Activities, Parties and Meetings:
Warren County
Chaney's Corn Maze - farm weddings, birthday parties, business meetings, Corn maze, farm fresh dairy ice cream,
Chaney's Dairy Barn, 9191 Nashville Road, Bowling Green, KY 42101. Phone: (270) 843-5567. Email: chaneyinfo@yahoo.com.. Open: Monday to Saturday from 11 am to 8 pm CDT, Sunday from Noon to 8 pm CDT. Directions: click here for a map and directions. Try to find your way through Chaney's Corn Maze. Play our corn maze game card and receive a free scoop of ice cream in a cup or plain cone when you complete it! $6/person. Bring your flashlight if you plan to come in the evening. (ADDED: September 11, 2010, from their website)
---
Wholesale Foods
Daviess County
5 Acre Farm - Local sales at our farm, Local delivery, Regional delivery (see below for details), some produce is sustainably grown, some produce is grown using IPM (integrated pest management), all produce is sustainably grown, Crafts, artistic products, etc,
2400 West Parrish Avenue, Owensboro, KY 42301. Phone: 270-880-9925. Alternate Phone: 270-993-4271. Email: tandybramschreiber@gmail.com. Open: Offering wholsale Monday to Friday 6am to 6pm June 1 to October 31; Or by calling or email. Directions: We are located on Parrish Avenue West before you reach Moonlite restaurant. Up on the hill is were our greatness is grow and sold!. Click here for a map and directions. Payment: Cash, Check. I believe that greatness starts with the right seed. all of our seed is saved from year to year. The original seed for my beans came many years back in the Appalachian Mountain region. These green beans are meant to be picked by hand not machine. and because of that they are tender and delicious. We sell heirloom variety of green beans and tomatoes. all of our produce is all natural we are a no spray farm. We also have barn wood crafts. call for dates and time the farm will be in operation. We would love to hear from you. The 5 acre farm, we grow good taste!. (ADDED: August 20, 2014)
Phil Lambert Farms LLC - Local sales at our farm, Local delivery, Regional delivery (see below for details), National delivery, pumpkins,
1547 Hagan Lane South, Owensboro, KY 42301. Phone: 270-993-1846. Alternate Phone: 270-764-1448. Fax: 2707641448. Email: lambertfarm1@aol.com. Open: 7 days a week by appointment only. Click here for current open hours, days and dates. Directions: Western Daviess County, just a few miles south of Evansville Indiana. Click here for a map and directions. Payment: Cash, Check. We sell bin only wholesale pumpkins. We also take early orders by contract only. 7 acres left to sell in 2011 so call and reserve now. (ADDED: September 08, 2011)
McCracken County
Green's 'Silo House' Farms - Local sales at our farm, Local delivery, Regional delivery (see below for details), Preserves, jams, jellies, blackberries, blueberries, boysenberries, flowers, melons, raspberries (red), raspberries (Spring, red), raspberries (Autumn, red), raspberries (black), raspberries (Spring, black), raspberries (Autumn, black), strawberries, U-pick and already picked, school tours
7435 New Hope Church Rd, Paducah, KY 42001. Phone: (270)534-1005. Alternate Phone: (270)210-5789. Fax: (270)534-1005. Email: greensilohouse@bellsouth.net. Open: Monday to Saturday from 7am to 5pm. Directions: From Lone Oak Rd, turn right on State Road 1322(Lovelaceville Rd) for 3.3 miles. Turn left on State Road 786(Mayfield Metropolis Rd) for 1 mile. Turn right on New Hope Church Road for 1 mile to the farm. Click here for a map and directions. Strawberries: April 7 to May 15, Blackberries: June 1 to August 31, Blueberries: June 1 to July 31. Payment: Cash, Check, Debit cards, Visa/MasterCard, Discover. We also have an extensive variety of trees and ornamental shrubs. (ADDED: May 06, 2011)
Warren County
River Cottage Farm - Local sales at our farm, Local delivery, Regional delivery (see below for details), some produce is certified organically grown, all produce is sustainably grown, all produce is grown using IPM (integrated pest management), Baked goods, Preserves, jams, jellies, Crafts, artistic products, etc, Fresh eggs, gift shop, farm animals
5635 Blue Level Road, Rockfield, KY 42274. Phone: 270-796-2662. Alternate Phone: 317-413-7709. Email: debbie@rivercottagefarm.net. Open: Tuesday through Saturday 10:00am to 5:00pm. Directions: Click here for a map and directions. Payment: Cash, Check. River Cottage Farm Wool Products Roving Yarn Knitted items. (ADDED: May 25, 2011)