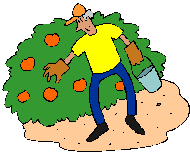 Looking for a local, pick-your-own farm in Albuquerque, Santa Fe and Central New Mexico? Scroll down this page and you will see the U-Pick farms in Albuquerque, Santa Fe and Central New Mexico, sorted by county. Those that offer organic or sustainably grown produce are identified by the words "organic" and/or "sustainable" in Green, next to their name. If they have a website, the name will be in blue and underlined; click on it and it will open their website.
And if you know of any I missed and want to add them or correct the information, please let me know!
What's in season in January 2018, and other timely information:
Notes for January 2018: Strawberries have a very brief season; and they start in early April in the South, May in most of the US, and early June in the North - don't miss them: See your state's crop availability calendar for more specific dates of upcoming crops. And see our guide to local fruit and vegetable festivals, such as strawberry festivals and blueberry festivals. Cold weather crops, like spinach, some lettuces, peas, kale, Brussels sprouts, broccoli, cauliflower, leeks and early onions being harvested in all but the coldest regions. Many farms and markets still have fresh winter squash, stored from last Autumn.
You may noticed the new appearance to the website! Simpler, cleaner and mobile-friendly! I'm rolling it out, page by page over the next 2 months. Everything is still here; you can access it from the drop down menus at the top of the page or the site search. If you have any questions or suggestions, feel free to write me!
Albuquerque, Santa Fe and Central New Mexico U-Pick Farms and Orchards, by county
Click on the resources drop-down above, if you need a county map
Bernalillo County
Waveda

-

Uses natural growing practices

, apples, pears, peaches, Fresh eggs, Cider mill (fresh apple cider made on the premises)
105 Baker Lane Ne, Albuquerque , NM 87113. Phone: 505-898-6910. Email: Emyers_11@yahoo.com. Open: The owner tells me they are closed until next season (2016), when their hours should be: Call to set appointment; Saturday September 12 orchard closed for picking; We are selling at the rio grand growers market; Call to set a time to pick any other day!. Directions: Click here for a map and directions. We use natural practices, but are not yet certified Organic. Payment: Cash, only. (UPDATED: September 12, 2015) (UPDATED: August 21, 2015) (ADDED: August 16, 2015)
Guadalupe County
Los Alamos County
San Miguel County
Sandoval County
Heidi's Raspberry Farm - certified organic, raspberries,
600 Lindero del Drenaje South of East La Entrada on drainage ditch, Corrales, NM 87048. Phone: 505-898-1784. Fax: same. Email: heidi@heidisraspberryfarm.com. Open: Saturdays and Sundays, 9:00 to 3:00 We provide pint containers for picking. Click here for current open hours, days and dates. Raspberries: Late August to the first frost (usually mid October). Click here for picking updates. Directions: Be sure to see the note from a visitor below. To find HRF if you are south of Corrales: go north on Corrales Road 2.2 mi. from the Coors and Alameda intersection, turn east on "La Entrada East" and follow the signs. To find HRF if you are north of Corrales: go south on I-25, exit at Bernalillo, go west on highway 550, follow 550 across the Rio Grande, go south on 528, at Giant station turn east on Corrales Road 448, proceed 4.5 mi. and turn east on "La Entrada East" (just past Wells Fargo bank look for signs on left), follow the signs. Click here for a map and directions. We are certified organic for all crops! Payment: Cash, Check, Visa/MasterCard. (UPDATED: May 3, 2015, JBS)
A visitor writes on September 05, 2014: "When looking into this pick-it-yourself farm, I found that while they are based in Corrales, the pick-yourself fields are located 30 miles away in Los Lunas. I think the directions on your site should include this fact since I would imagine that driving all the way to the north end of the valley for a 'fruitless' adventure would be frustrating for most. We went today and the berries are all great for $5/pint. Half the field is off limits for regrowth but the rest is full of sweet berries. Go before noon. Bing mosquito repellent, they are ubiquitous even at 1 pm. And anyone with ragweed or other weed allergies , bring allergy medicine; blooming is in progress, my kid had a huge reaction!"
Santa Fe County
Mrs. Boots' Berries

-

Uses natural growing practices

, raspberries (Autumn, red), U-pick and already picked
11 Potrero Road, Chimayo, NM 87522. Phone: (505) 351-4412. Email: bootsberries@cybermesa.com. Open: by appointment July 15 through October 15 ; Call or email us to set up a time to pick our raspberries. Directions: We will email directions to you once you have set up an appointment. We use natural practices, but are not seeking organic certification. Payment: Cash, Check. (ADDED: August 31, 2011) (UPDATED: September 08, 2012)
Torrance County
Valencia County
Costanza Apple Orchard -

Uses integrated pest management practices

, apples, Honey from hives on the farm, restrooms, farm animals, school tours, farm market
5 Padilla Rd, Belen, NM 87002. Phone: 505-864-1621. Alternate Phone: 505-864-1621. Email: margaretcostanza@aol.com. Open: August 15th through early - mid - November Monday - Friday 9 am to 5 pm Saturday 9am to 4 pm Sunday 10 am to 5 pm. Directions: I-25 south (30 miles) to Belen exit 195 go 3.5 miles Right at Chavez Road, (past Bank and before Allistante Restaurant/Checker Auto Left at Molina Road (Stop sign) Left at Gabaldon Rd Quick right on Padilla Rd Third home (orchard) on left (blue gate. Note: Sisters have orchard at second home on left Note: If you use a mapping service such as Google the address shows our sisters orchard. Our orchard is one house further to the east. Click here for a map and directions. We use integrated pest management practices. Payment: Cash, Check, Visa/MasterCard. We also have pumpkins and winter squash (already picked, in the farm market) (UPDATED: May 3, 2015, JBS) (UPDATED: October 28, 2012)(UPDATED: October 19, 2012)
Wagner's Farmland Experience - beans, cucumbers, flowers, melons, peppers, pumpkins, summer squash, tomatoes, concessions / refreshment stand, porta-potties, picnic area, petting zoo, birthday parties, weddings and wedding parties, school tours
1420 Desert Willow Road, Los Lunas, NM 87031. Phone: 505-459-0719. Alternate Phone: 505-450-7675. Fax: 505-288-3598. Email: roxanne@wagnerfarmscorrales.com. Open: Their website is gone; Does anyone have current information, are they still offering pick your own or are even open? If so, please write me, their last reported hours were Everyday from 9 am to 6 pm September 6 to October 31. Directions: Click here for a map and directions. VIVA New Mexico Chile Festival annually, every weekend after labor day. Payment: Cash, Check, Debit cards, Visa/MasterCard. Click here for our Facebook page. (ADDED: September 02, 2013)
---
---
Local Honey Sources:
Valencia County
Costanza Apple Orchard -

Uses integrated pest management practices

, Wildflower honey, Raw honeys, Strained honey, Pollen, Tours, Honey from hives on the farm, restrooms, farm animals, school tours
5 Padilla Rd, Belen, NM 87002. Phone: 505-864-1621. Alternate Phone: 505-864-1621. Email: margaretcostanza@aol.com. Open: August 15th through early - mid - November Monday - Friday 9 am to 5 pm Saturday 9am to 4 pm Sunday 10 am to 5 pm. Directions: From Donut King in Belen go north to Gabaldon Road turn right and go to Padilla Road turn left. Farm is 100 yards down Padilla Road on the left. Click here for a map and directions. We use integrated pest management practices. Payment: Cash, Check, Visa/MasterCard. (ADDED: October 28, 2012)
---
Farm Venues for Events, Activities, Parties and Meetings:
Sandoval County
Wagner's Farmland Experience - Birthday parties, Business outings, School and educational groups, Daycare and preschool groups, Other Private Parties, Corn maze, Pumpkin patch, sheep, goats, horses, chickens, pigs, llamas/alpacas, Beautiful rural setting, Free Onsite Lot parking lot, children welcome, Pets welcome, porta-potties, picnic area, pony rides, petting zoo, birthday parties, school tours
Po Box 1958, Corrales, NM 87048. Phone: 505-459-0719. Alternate Phone: 505-450-7675. Fax: 505-288-3598. Email: roxanne@wagnerfarmscorrales.com. Open: Sunday to Friday, from 9 am to 6 pm; Saturday, from 9 am to 10 pm, September 15 to October 31. Directions: Click here for a map and directions. Payment: Cash, Check, Debit cards, Visa/MasterCard. Click here for our Facebook page. (UPDATED: September 02, 2013)
Valencia County
Wagner's Farmland Experience - Wedding Ceremony, Wedding Reception, Wedding Rehearsal Dinner, Banquets / Dinners, Birthday parties, Business meetings, Classes, lectures or Speakers, Daycare and preschool groups, Other Private Parties, Catering available, You may bring your own food, Some Tables and chairs are provided, Some Linens and table silverware are provided, Vegetables, or bush fruit, Corn maze, Pumpkin patch, sheep, goats, horses, chickens, pigs, llamas/alpacas, Beautiful rural setting, Free Onsite Lot parking lot, children welcome, Pets welcome, concessions / refreshment stand, porta-potties, picnic area, petting zoo, birthday parties, weddings and wedding parties, school tours
1420 Desert Willow Road, Los Lunas, NM 87031. Phone: 505-459-0719. Alternate Phone: 505-450-7675. Fax: 505-288-3598. Email: roxanne@wagnerfarmscorrales.com. Open: May through October. Directions: Click here for a map and directions. VIVA New Mexico Chile Festival annually, every weekend after labor day. Payment: Cash, Check, Debit cards, Visa/MasterCard. Click here for our Facebook page. (ADDED: September 02, 2013)
---
Wholesale Foods
Valencia County
Wagner's Farmland Experience - Local sales at our farm, some produce is sustainably grown, Wide variety of seasonal fruits and vegetables, concessions / refreshment stand, porta-potties, picnic area, petting zoo, birthday parties, weddings and wedding parties, school tours
1420 Desert Willow Road, Los Lunas, NM 87031. Phone: 505-459-0719. Alternate Phone: 505-450-7675. Fax: 505-288-3598. Email: roxanne@wagnerfarmscorrales.com. Open: Everyday from 9 am to 6 pm September 6 to October 31. Directions: Click here for a map and directions. VIVA New Mexico Chile Festival annually, every weekend after labor day. Payment: Cash, Check, Debit cards, Visa/MasterCard. Click here for our Facebook page. (ADDED: September 02, 2013)