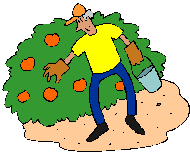 Looking for a local, pick-your-own farm in Northern Rhode Island? Scroll down this page and you will see the U-Pick farms in Northern Rhode Island, sorted by county. Those that offer organic or sustainably grown produce are identified by the words "organic" and/or "sustainable" in Green, next to their name. If they have a website, the name will be in blue and underlined; click on it and it will open their website.
And if you know of any I missed and want to add them or correct the information, please let me know!
What's in season in January 2018, and other timely information:
Notes for January 2018: Strawberries have a very brief season; and they start in early April in the South, May in most of the US, and early June in the North - don't miss them: See your state's crop availability calendar for more specific dates of upcoming crops. And see our guide to local fruit and vegetable festivals, such as strawberry festivals and blueberry festivals. Cold weather crops, like spinach, some lettuces, peas, kale, Brussels sprouts, broccoli, cauliflower, leeks and early onions being harvested in all but the coldest regions. Many farms and markets still have fresh winter squash, stored from last Autumn.
You may noticed the new appearance to the website! Simpler, cleaner and mobile-friendly! I'm rolling it out, page by page over the next 2 months. Everything is still here; you can access it from the drop down menus at the top of the page or the site search. If you have any questions or suggestions, feel free to write me!
Northern Rhode Island U-Pick Farms and Orchards, by county
Click on the resources drop-down above, if you need a county map
Bristol County
Kent County
Alpacas of Harkney Hill

-

No pesticides are used

, blueberries, farm animals, birthday parties, school tours
1394 Harkney Hill Road, Coventry, RI 02816. Phone: 401-397-4761. Fax: 401-397-4761. Email: alpacasofharkneyhill@yahoo.com. Open: Wednesday thru Saturday, 8:00AM until dark: Sunday, 9:00 AM until dark, mid - July through mid - September. Directions: From I-95 take exit 6. Bear North on Route 3 towards Coventry. At the first traffic light, turn Left on Route 118 which is Harkney Hill Road. We're 2.7 miles. You'll pass a golf course on the left, we're on the top of the following hill. You'll pass a fence section on the Right that says'Bedard'. We're the next driveway with curving stone walls. Go all the way to the end. Click here for a map and directions. The ONLY pyo crops offered are: native, wlld, low bush and high bush blueberries: huckleberries. No pesticides are used<![if !supportLineBreakNewLine]>. <![endif]>Alpaca tour - informational lecture geared toward the age group - Tuesday through Friday 1:30 and 4:00 pm or By Appointment. We do not use pesticides on the crops. Payment: Cash, Check. We have native Low Bush Blueberries that are the understory of our forested area. Please wear sturdy shoes (no flip flops) and bring your own containers. $10 per person. Children under 8 are free. Pick as much as you like. They are native, wild, low-bush blueberries, and some medium-bush extra-dark (almost black) blueberries (very high in anti-oxidants). Stay as long as you like. Some trails. We also have alpacas for the little ones to meet. (UPDATED: July 29, 2013) (UPDATED: July 16, 2011) (ADDED: August 11, 2010)
Bascombe Farms & Orchard - Apples, Peaches
99 West Wrentham Road, Cumberland, RI 02864. Phone: (401) 658-1962. Open: Monday to Friday from 3 pm to 6 pm and Saturday and Sunday from 10 am to 5 pm. Directions: from I-295: Take Exit 10 off I-295 for Rt. 122 Travel north on Rt. 122 for 3 miles Turn right on West Wrentham Rd. Farm is 1/4 mile on right. (ADDED: July 10, 2009)
Cataldo Family Orchard - Apples
Reynolds Road (Route 94), Glocester, RI 02814. Phone: (401) 934-0179. Open: call for hours. Directions: Take exit 7B from I-295 Head west on route 44 for 14.5 miles. Turn left on Reynolds Road (Route 94) Orchard entrance is about 1/2 mile on right. (ADDED: July 10, 2009)
Harley Farm - apples, pumpkins, Farm Fresh Eggs, Hay rides, Farm Animals
1299 Putnam Pike, Glocester, RI 02814. Phone: (401) 710-9154. Open: 7 days from 10 am to 4 pm from September to November. Directions: from I-295: Take Exit 7B off I-295 for Rt. 44 west Travel on Rt. 44 west for 10 miles through Chepachet At traffic light, continue on Rt. 44 for .4 miles Orchard is on right. (ADDED: July 10, 2009)
Macomber's Blueberry farm -

Minimizes chemical and pesticide use

, blueberries, U-pick and already picked
141 Rice City Road, Coventry, RI 02827. Phone: 401-397-5079. Email: MacombersBlueberryFarm@gmail.com. Open: Monday to Friday, most mornings from 8 am to 1 pm and some evenings; Saturday and Sunday, from 8 am to 4 pm; Always call the Blueberry Hotline first for exact picking times and conditions. Directions: Click here for a map and directions. July - September. We minimize use of pesticides and other chemicals. Payment: Cash, only. Click here for our Facebook page. (UPDATED: May 20, 2015, JBS) (UPDATED: July 16, 2012)
Rocky Point Farm - Blueberries
130 Rocky Point Avenue, Warwick, Rhode Island. Phone: 401-732-6206. Email: blueberryrockypoint@verizon.net. Open: 7 days a week during blueberry season, 7 am to 12 noon, and Thursdays 4 to 8 pm. Directions: We are on the road to the former Rocky Point amusement park, on Warwick Neck, which is surrounded by Narragansett Bay. From Providence and points north, take I-95 to exit 14, stay left for 37 East to the exit for Post Road South. At the third light, left on Airport Road. At Hoxie Four Corners (Dave's supermarket on right) continue straight ahead on West Shore Road to left on Warwick Neck Avenue (Rocky Point Pub on right) to left on Rocky Point Avenue. We are about 200 yards down Rocky Point Avenue on the right, past our neighbors' houses to the farm gate and signs. Pawpaws: In addition to the fruit from our seedling and named variety trees. we hope to harvest the first fruit from trees developed by pawpaw guru Neal Peterson: Shenandoah and Susquehana. And we will be grafting his Wabash variety on some of our seedlings. See our pawpaw page for more information about this interesting fruit. Blueberry season is typically July and August. Click here for our Facebook page. The Blueberry Picking is going to begin sometime in July. We are looking forward to a great crop and will post our start date as soon as the berries are ready to pick. We will also send out an email to everyone on our email list and will post updates on our Facebook Page. (UPDATED: May 20, 2015, JBS) (UPDATED: March 30, 2012)
Comments from a visitor on July 13, 2013: "The owners were friendly (unusual for this part of the country),supplied us with bucklets to pick and pointed us to the bushes. The berries were delicious. They didn't restrict us to a certain area, but told us to go to the area and the bushes that suited us. They advised us where the best picking was. but we could go anywhere and pick whichever berries we wanted (Again, somewhat unusual for New England!)"
Comments from a visitor on April 25, 2009: "LOVED IT!"
Providence County
---
---
Local Honey Sources:
Providence County
Primrose Valley Gardens - Honey (retail), Comb honey, Raw honeys, gift shop
1184 Providence Pike, North Smithfield, RI 02896. Phone: 401-597-5797. Email: nicole@grapevinelandscape.com. Open: Monday - Saturday: 10 am to 5 Sunday: 10 am to 3. Directions: Click here for a map and directions. Farmer's Day - October 20, 2012 pm to a cross between a harvest festival and a farmer's market! Join us for a family-friendly day of live music, free food, a petting zoo, and much more!!. Payment: Cash, Check, Debit cards, Visa/MasterCard. (UPDATED: October 09, 2012)
---
Meats, Milk and Eggs:
Providence County
---
Farm Venues for Events, Activities, Parties and Meetings:
Kent County
Alpacas of Harkney Hill

-

No pesticides are used

, Birthday parties, Filming or photo shoots, School and educational groups, Other Private Parties, You may bring your own food, Some Tables and chairs are provided, Bring Your Own Tables and chairs, Bring your own linens and table silverware, BYO alcohol, llamas/alpacas, Beautiful rural setting, Hiking trails, Fishing nearby, boating nearby, horse riding, golf nearby, Copy Machine, Fax, Internet (Wireless), Phone available, TV available, Free Onsite Lot parking lot, Within an easy drive to an Interstate road, children welcome, No smoking allowed, farm animals, birthday parties, school tours
1394 Harkney Hill Road, Coventry, RI 02816. Phone: 401-397-4761. Fax: 401-397-4761. Email: alpacasofharkneyhill@cox.net. Open: By appointment; Please call or email. Directions: From I-95 take exit 6. Bear North on Route 3 towards Coventry. At the first traffic light, turn Left on Route 118 which is Harkney Hill Road. We're 2.7 miles. You'll pass a golf course on the left, we're on the top of the following hill. You'll pass a fence section on the Right that says'Bedard'. We're the next driveway with curving stone walls. Go all the way to the end. Click here for a map and directions. Alpaca tour - informational lecture geared toward the age group - Tuesday through Friday 1:30 and 4:00 pm or By Appointment. We do not use pesticides on the crops. Payment: Cash, Check. We have native Low Bush Blueberries that are the understory of our forested area. Please wear sturdy shoes (no flip flops) and bring your own containers. $10 per person. Children under 8 are free. Pick as much as you like. Stay as long as you like. Some trails. We also have alpacas for the little ones to meet. (UPDATED: July 16, 2011)
---
Horse Rides and More:
---
Winery, Brewery and Distillery Tours and Tastings:
---
Farm Bed And Breakfasts
---
Maple Syrup Farms and Sugarworks:
---
Wholesale Foods
Providence County
Sunset Orchard - Local sales at our farm, Local delivery, Baked goods, Preserves, jams, jellies, apples, pears, peaches, plums, Cider mill (fresh apple cider made on the premises), concessions / refreshment stand, porta-potties, inflatables/bounce house, school tours
244 Gleaner Chapel Road, North Scituate, RI 02857. Phone: (401) 934-1900. Email: sunsetorchardsri@gmail.com. Open: See our website for current hours. Click here for current open hours, days and dates. Directions: Click here for a map and directions. Payment: Cash, Debit cards, Visa/MasterCard. Click here for our Facebook page. Sunset Orchard has new owners! We offer Pick Your Own apples and peaches, tractor pulled wagon rides, pies and pastries, and fresh cider from our cider mill. Make it a day with family and friends!. (UPDATED: July 29, 2014)
---