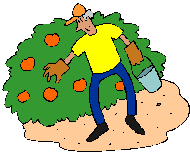 Looking for a local, pick-your-own farm in Southeastern South Dakota? Scroll down this page and you will see the U-Pick farms in Southeastern South Dakota, sorted by county. Those that offer organic or sustainably grown produce are identified by the words "organic" and/or "sustainable" in Green, next to their name. If they have a website, the name will be in blue and underlined; click on it and it will open their website.
And if you know of any I missed and want to add them or correct the information, please let me know!
What's in season in January 2018, and other timely information:
Notes for January 2018: Strawberries have a very brief season; and they start in early April in the South, May in most of the US, and early June in the North - don't miss them: See your state's crop availability calendar for more specific dates of upcoming crops. And see our guide to local fruit and vegetable festivals, such as strawberry festivals and blueberry festivals. Cold weather crops, like spinach, some lettuces, peas, kale, Brussels sprouts, broccoli, cauliflower, leeks and early onions being harvested in all but the coldest regions. Many farms and markets still have fresh winter squash, stored from last Autumn.
You may noticed the new appearance to the website! Simpler, cleaner and mobile-friendly! I'm rolling it out, page by page over the next 2 months. Everything is still here; you can access it from the drop down menus at the top of the page or the site search. If you have any questions or suggestions, feel free to write me!
Southeastern South Dakota U-Pick Farms and Orchards, by county
Click on the resources drop-down above, if you need a county map
Bon Homme County
Brookings County
Sanderson Gardens - pumpkins, raspberries (Spring, red), raspberries (Autumn, red), rhubarb, strawberries, U-pick and already picked, restrooms, birthday parties, school tours
47657 US Highway 14, Aurora, SD 57002. Phone: 605-693-4871. Email: rhubarbking@hotmail.com. Open: When strawberries start we are open everyday 8am to Noon; Call ahead if you are driving very far or want to order picked fruit; Raspberries usually start about the middle of August and go until the first killing frost; Self serve anytime during daylight hours; Pumpkins begin about middle of September and go until Halloween; Self serve anytime during daylight hours. Picking updates: Click here for picking updates. Directions: 4 miles east of Brookings on US Highway 14. Click here for a map and directions. Payment: Cash, only. (UPDATED: February 27, 2010)
Clay County
Ufford Hills Agriculture - beans, beets, broccoli, carrots, corn (sweet), cucumbers, eggplant, flowers, gooseberries, herbs/spices, melons, onions, other berries, peas, peppers, plums, rhubarb, summer squash, winter squash, tomatoes, other vegetables, walnuts, Fresh eggs
3691 East Main Street, Vermillion, SD 57069. Phone: 605-521-8627. Alternate Phone: 605-677-8775. Fax: 605-624-3618. Email: uffordhills@hotmail.com. Open: Reservations Only 6055218627. Directions: Just off interstate 29 and highway 50. Feel free to call for specific directions.Click here for a map and directions. Harvest Festival is the first week of October every year; Haunted Corn Maze is last two weekends of October every year. Payment: Cash, Check, Debit cards, Visa/MasterCard. Click here for our Facebook page. (ADDED: February 17, 2015) (ADDED: September 02, 2013)
Davison County
Douglas County
Hanson County
Hutchinson County
Kingsbury County
Lake County
Lincoln County
Country Apple Orchard - apples, pumpkins, gift shop,
27249 SD Highway 115, Harrisburg, SD 57032. Phone: 605-743-2424. Email: click here for their contact form. Directions: The orchard is located 5 miles south of Sioux Falls, on Minnesota Avenue. Click here for a map. The orchard was established in 1984 on 78 acres. We have approximately 6,000 trees with thirteen varieties to satisfy everyone's tastes. We also plant seven acres of pumpkins. Harvesting begins in Mid-August, and continues into late October. Please come out and enjoy a day in the country! We have many exciting fall events and new attractions planned. Veda's Homemade Apple Pie, Also available Apple Wood Chips, Pony Rides & Train Rides (Weekends Only)
Open: Fall Hours, Monday to Friday: 10am to 6pm, Saturday: 10am to 5pm, Sunday: 12pm to 5pm. And we have festivals:
Apple Festival a weekend in September, includes apple picking, homemade pies, horse drawn hayrides, pony rides, train rides, art & craft booth. All American Gymnastic Inflatable playground, food & bushels of fun for everyone.
Harvest Festival, a weekend in early October, enjoy a day in the country picking apples & pumpkins. Come out and meet Sneakers the live scarecrow. Enjoy horse drawn hayrides, pony rides, inflatable playground, train rides, homemade apple and pumpkin pie, an lost of fun.
Great South Dakota Weigh Off (SD Giant Pumpkin Growers Association): Come and see the incredible 500 lb. pumpkins. Weigh-in and winner announced after 11a.m. Call for details.
Pumpkin Festival on a weekend in mid October: Enjoy the country with a horse-drawn hayride to one of the many pumpkin patches, pony rides, food, inflatable playground, train rides, Kettle-Korn, face painting, Children's Barn & lots of fun.
(UPDATED: October 11, 2013, from their website)
McCook County
Miner County
Minnehaha County
Moody County
Sanborn County
Turner County
Berrybrook Organics -

Certified Organic

, raspberries (red), raspberries (Spring, red), raspberries (Spring, yellow), strawberries, Fresh eggs, U-pick and already picked
44578 280th Street, Marion, SD 57043. Phone: 605-925-7038. Email: sherilynortman@gmail.com. Open: Normal hours for strawberries are from 7:00am till 11:00am Mondays through Saturdays, usually starting in early to mid June depending on the year; Please call ahead or check our website for more information. Click here for current open hours, days and dates. Directions: Click here for a map and directions. We are certified organic for all crops! Payment: Cash, Check. Click here for our Facebook page. (UPDATED: May 12, 2014) (ADDED: April 11, 2011)
Union County
Yankton County
Garritys' Prairie Gardens LLC - Apples, cherries, plums, pumpkins, raspberries, strawberries, Pony Rides & Train Rides
30661 444th Avenue, Mission Hill, SD 57046. Phone: 605-665-2806. Email us at: garrity@iw.net. Directions: Click here for a map to our farm. We are open June, July, August, September, October. Our hours are: Monday to Saturday 9am to 6pm Sunday 1pm to 5pm Apple Fest celebrated every weekend in September and October.
---
---
Local Honey Sources:
---
Meats, Milk and Eggs:
Clay County
Ufford Hills Agriculture - Chicken (NOT free range), Chicken (free range), Beef, Veal, Pork, Goat meat, USDA Natural, No hormones used, No antibiotics used, 100% Grass fed (includes finishing), Fresh farm breakfasts, Lunches offered, Farm dinners, snacks, refreshments and/or concessions, Milk, Goat Milk, Unpasteurized Goat Milk, Eggs (free range, vegetarian fed), Eggs (vegetarian fed), Eggs (free range), Eggs, Brown eggs, Farm market with fruits and vegetables, Snack bar, Restrooms, Wedding facilities, Hiking trails, Within an easy drive to an Interstate road, Farm/ranch tours for visitors, School tours, children welcome, Fresh eggs
3691 East Main Street, Vermillion, SD 57069. Phone: 605-521-8627. Alternate Phone: 605-677-8775. Fax: 6056243618. Email: uffordhills@hotmail.com. Open: Reservations Only 6056778775. Directions: Just off interstate 29 and highway 50. Feel free to call for specific directions. Click here for a map and directions. Harvest Festival is the first week of October every year; Haunted Corn Maze is last two weekends of October every year;. Payment: Cash, Check, Debit cards, Visa/MasterCard. Come visit us at our County Store, open on Tuesday's. Or the Vermillion Area Farmers Market in the summer Thursday evenings and Saturday Mornings. Call to reserve your meat 605-677-8775. (ADDED: February 17, 2015)
McCook County
Goosemobile Pastured Meats-Goosemobile - Turkeys, farm animals
45052 260th Street, Canistota, SD 57012. Phone: 605-296-3314. Email: goosdown@unitelsd.com. Open: Directions:: 3+ miles South of I 90 to 260th Street. Turn West 1/2 mile on right side of road. Highway # 42 to 451st Avenue, turn right or North 5 miles to 260th Street, turn left or West 1/2 mile, turn right or North side of the road. Click here for a map and directions. Payment: Cash, Check. (ADDED: September 10, 2009)
---
Farm Venues for Events, Activities, Parties and Meetings:
Clay County
Ufford Hills Pumpkin Patch and Corn Maze - Wedding Ceremony, Wedding Reception, Wedding Rehearsal Dinner, Banquets / Dinners, Birthday parties, Business meetings, Business outings, Corporate events, PR or Marketing events, Conferences, Filming or photo shoots, Classes, lectures or Speakers, School and educational groups, Daycare and preschool groups, Other Private Parties, Lighting, Cooking Facilities, Kitchen facilities available, Catering available, You may bring your own food, Some Tables and chairs are provided, Bring Your Own Tables and chairs, Some Linens and table silverware are provided, Bring your own linens and table silverware, BYO alcohol, Bed & Breakfast onsite, Hotel nearby, Motel nearby, Corn maze, Pumpkin patch, dairy cows, horses, chickens, Horse riding at the farm, Beautiful rural setting, Mountain views, Hiking trails, Fishing nearby, hunting nearby, boating nearby, skiing nearby, snowmobiling nearby, horse riding, golf nearby, swimming pool nearby, tennis nearby, fitness/health club nearby, CD Player, Computer, Copy Machine, Fax, Internet (Wireless), Phone available, Podium, TV available, DVD Player, VCR available, Projection Screen provided, Free Onsite Lot parking lot, Valet parking can be arranged, Within an easy drive to an Interstate road, Bride and groom dressing areas available, children welcome, Pets welcome, Smoking allowed in designated areas, Vegetarian meals available, meeting room available, Maple Syrup from trees on the farm, Fresh eggs, Cider mill (fresh apple cider made on the premises), U-pick and already picked, porta-potties, picnic area, face painting, Inflatables/bounce house, petting zoo, farm animals, birthday parties, weddings and wedding parties, school tours, events at your location (call for info)
3691 East Main Street, Vermillion, SD 57069. Phone: 605-624-3618. Fax: 605-624-3618. Email: uffordhills@hotmail.com. Open: By reservation only, call 605-624-3618. Click here for current open hours, days and dates. Venue updates: Click here for updates. Directions: 3691 East Main Street Vermillion SD. Just off interstate 29 and highway 50. Feel free to call for specific directions. Click here for a map and directions. Corn maze is now open! Corn maze closes October 31st; Harvest Festival is the first weekend in October;. Payment: Cash, Check, Debit cards, Visa/MasterCard. Click here for our Facebook page. Last weekend in October will be the Haunted Corn Maze open noon till we freeze. Wayside Farm and Bed and Breakfast has a southern style house with a lot of family history as the owner is the 6th generation born and raised on the farm stead where the house sits. Wayside farms is within walking distance of Ufford Hills Ag which has a 40 BY 80 pavillion perfect for any occasion, includes kitcheneete and hog roaster. Next to the pavillion is a 150 foot siege wall with two towers and a gate house, and a ship built for fencing. Very large area at 40 acres on the beautiful Missouri River Bluff, no venue too large. (ADDED: September 02, 2013)
---
Horse Rides and More:
Clay County
Ufford Hills Agriculture - Boarding stables, Overnight stables, Horse trails (guided), Horses rented (guided trails), Horse leasing, Horse riding lessons, equipment & instruction, Dressage lessons, Fresh farm breakfasts, Lunches offered, Farm dinners, snacks, refreshments and/or concessions, Bed and breakfast, Tent camping, horses allowed, Tent camping, horses not allowed at the campsite, Trailer / Caravan hookup, sewer, etc, Hotel / Motel nearby, Wedding facilities, Beautiful rural setting, Mountain views, Hiking trails, laundry service available, Fishing nearby, hunting nearby, boating nearby, horse riding, golf nearby, swimming pool nearby, tennis nearby, fitness/health club nearby, Within an easy drive to an Interstate road, School tours, children welcome, Vegetarian meals available, beginners riding lessons, Fresh eggs
3691 East Main Street, Vermillion, SD 57069. Phone: 605-670-0117. Alternate Phone: 605-677-8775. Fax: 605-624-3618. Email: uffordhills@hotmail.com. Open: Reservations Only 605-670-0117. Directions: Just off interstate 29 and highway 50. Feel free to call for specific directions. Click here for a map and directions. Harvest Festival is the first week of October every year; Haunted Corn Maze is last two weekends of October every year;. Payment: Cash, Check, Debit cards, Visa/MasterCard. Richard Braunstein is in charge of the rides. 605-670-0117 Rali Sykes is in charge of all the boarding. (ADDED: February 17, 2015)
---
Winery, Brewery and Distillery Tours and Tastings:
---
Farm Bed And Breakfasts
Clay County
Ufford Hills Pumpkin Patch and Corn Maze - 3 total rooms, Price range from $80 to $150, Large beds, Large rooms, TV in rooms, Small fridge in rooms, Wireless internet available (no fee), Coffee/tea maker in rooms, Fresh farm breakfasts, Lunches offered, Farm dinners, Fresh eggs, Wedding facilities, Beautiful rural setting, Mountain views, Hiking trails, horse riding at the farm, laundry service available, washer and dryer available, Fishing nearby, hunting nearby, boating nearby, skiing nearby, snowmobiling nearby, horse riding, golf nearby, swimming pool nearby, tennis nearby, fitness/health club nearby, Free farm tours for overnight guests, Within an easy drive to an Interstate road, children welcome, No pets please, No smoking allowed, Vegetarian meals available, meeting room available, PYO fruit, Help feed the animals, Sustainable farming, dairy cows, horses, chickens, Maple Syrup from trees on the farm, Fresh eggs, Cider mill (fresh apple cider made on the premises), U-pick and already picked, porta-potties, picnic area, face painting, Inflatables/bounce house, petting zoo, farm animals, birthday parties, weddings and wedding parties, school tours, events at your location (call for info)
3691 East Main Street, Vermillion, SD 57069. Phone: 605-624-3618. Fax: 605-624-3618. Email: uffordhills@hotmail.com. Click here for current open hours, days and dates. B&B updates: Click here for updates. Directions: 3691 East Main Street Vermillion SD. Just off interstate 29 and highway 50. Feel free to call for specific directions. Click here for a map and directions. Payment: Cash, Check, Debit cards, Visa/MasterCard. Click here for our Facebook page. Last weekend in October will be the Haunted Corn Maze open noon till we freeze. Beautiful southern style house just on the out side of town nI a beautiful rural area. Farm experiences available. (ADDED: September 02, 2013)
---
Maple Syrup Farms and Sugarworks:
---
Wholesale Foods
Clay County
Ufford Hills Agriculture - Local sales at our farm, some produce is sustainably grown, all produce is sustainably grown, corn (sweet), Fresh eggs
3691 East Main Street, Vermillion, SD 57069. Phone: 605-521-8627. Alternate Phone: 605-677-8775. Fax: 605-624-3618. Email: uffordhills@hotmail.com. Open: Call 605-677-8775. Directions: Click here for a map and directions. Payment: Cash, Check, Debit cards, Visa/MasterCard. Open to truck load pricing, pick your own, loss your own. Call 605-677-8775. (ADDED: February 17, 2015)
---