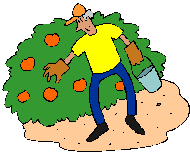 Looking for a local, pick-your-own farm in Mountaineer Country area of West Virginia? Scroll down this page and you will see the U-Pick farms in Mountaineer Country area of West Virginia, sorted by county. Those that offer organic or sustainably grown produce are identified by the words "organic" and/or "sustainable" in Green, next to their name. If they have a website, the name will be in blue and underlined; click on it and it will open their website.
And if you know of any I missed and want to add them or correct the information, please let me know!
What's in season in January 2018, and other timely information:
Notes for January 2018: Strawberries have a very brief season; and they start in early April in the South, May in most of the US, and early June in the North - don't miss them: See your state's crop availability calendar for more specific dates of upcoming crops. And see our guide to local fruit and vegetable festivals, such as strawberry festivals and blueberry festivals. Cold weather crops, like spinach, some lettuces, peas, kale, Brussels sprouts, broccoli, cauliflower, leeks and early onions being harvested in all but the coldest regions. Many farms and markets still have fresh winter squash, stored from last Autumn.
You may noticed the new appearance to the website! Simpler, cleaner and mobile-friendly! I'm rolling it out, page by page over the next 2 months. Everything is still here; you can access it from the drop down menus at the top of the page or the site search. If you have any questions or suggestions, feel free to write me!
Mountaineer Country area of West Virginia U-Pick Farms and Orchards, by county
Click on the resources drop-down above, if you need a county map
Barbour County
Braxton County
Doddridge County
You Pick You Eat Berry Patch - blackberries, chestnuts, raspberries (Autumn, red), walnuts,
302 Skelton Run Road, Salem, WV 26426. Phone: 772 979 2532. Alternate Phone: 304 782 2240. Email: You Pick You Eat Berry Patch @ aol.com . Open: Call Farm For times information 304 pm to 782 2240 or 772 979 2532;On 772 pm to 979 am to 2532 Leave Your Message And Contact Number. Directions: Off Route 50, North On Route 23, At Salem University Exit The University Is South. The Uncorp Town called Sedaila Wv. 5.6 miles on 23 North( From Route 50) .Right On To Skelton Run Road .3 mile Look For Sign Berry Patch. Sedaila Wv, Skelton Run Road.Easy Google On Map Quest Or Use GPS Skelton Run Road. Land Mark Is A Church Called, Vermont Baptist Church Is On Skelton run road. Come Up .3 mile On The Right. Click here for a map and directions. Black Berries Start In June Till August Raspberries Autumn, And Up To Mother Nature For Crop Prod uction. Payment: Cash, only. Blackberries When In, And Raspberries Are In, Limited Fall Supply Now, Fresh Walnuts Chestnuts Depending on Mother Nature, All Organic. Nuts Are Also Organic.1st Year Open 2014 It Will Improve Year after year With All Berries. Come take a Look Nice Drive In The Country, Up The Road Some 80 Year Old Farms Houses Nostalgic Old Farm Houses Drive By Them, While They Stand Let The Sight of Them Take You Back To Yesteryear's Dreams. (UPDATED: September 07, 2014)
Gilmer County
Harrison County
Good Hope Berry Farm - pumpkins, strawberries,
322 Isaacs Creek Road, Lost Creek, WV 26385. Phone: 304-694-2580. Open: See our facebook page for current hours. Directions: Click here for a map and directions. Payment: Cash, Check. (ADDED: October 09, 2015)
West Virginia Fruit & Berry - Blueberries, Blackberries
Rt. 1, Box 64, Bridgeport, WV 26330. Phone: 888-982-3779. Email: wvfruitandberry@wvfruitandberry.com. Open: by appointment and in season for Blueberries and Blackberries; Please call ahead for that, we will let you know our availability June-August. We started our business as small fruit growers and then become a jelly company, due to that we still grow some small fruit on the farm. (ADDED: July 04, 2012, FTW)
Lewis County
La Paix Herb Farm - ORGANIC, herbs, gift shop
3052 Crooked Run Road, Alum Bridge, WV 26321. Phone: (304)269-7681. Email us at: lapaix@westvirginia.net. Directions: North Central West Virginia. Exit 99 off I79 to Weston. Drive through Weston to Route 33 West, go approximately 15 miles to Crooked Run Road on left. Turn left at Crooked Run, go about 2-1/2 miles to first left, turn and continue about 1 mile - signs announce La Paix Herb Farm. Open: Please call to arrange or email for reservation. Lavender: mid September (call first) Culinary herbs: chives, garlic chives, thyme, lemon thyme, lemon balm, fennel, Egyptian mint, peppermint, pineapple mint, purple perilla (shisho). - August, September (call first) Payment: Cash, Check, Visa/MasterCard, Discover. All crops grown organically. 5th Annual Lavender Fair 2007 is scheduled for Saturday, June 30th, 2007. Workshops and Tours by appointment only.
Marion County
Blueberry Ridge Farms - Blueberries
Thomas Moran Lane, Bunner Ridge, WV 26554. Phone: 304-368-8294. (ADDED: July 10, 2009, suggested by a visitor)
Comments from a visitor on July 10, 2009: "It was great! U-Pick-Em blueberries. Tent with tables and chairs Organic New--I think this is the first or second year it's been open. "
Monongalia County
Preston County
McConnell's Berry Farm - Blueberries and blackberries. They do have summer apples that they pick but because of unusual spring weather they will not have any this year.,
Old Saw Mill Rd, Morgantown, WV. Phone: 304-291-0015. Email: debby@mcconnellberryfarm.biz. Open: By appointment, See their website for for hours and availability. Directions: Located 10 miles south of Morgantown WV on US Route 119, halfway between Morgantown and Grafton WV. Payment: Cash, only. (ADDED: July 04, 2012, suggested by a visitor)
Randolph County
Taylor County
Tucker County
Upshur County
Floral Acres -

Uses natural growing practices

, Blueberries,
RR 1 Box 26E, French Creek, WV 26218. Phone: 304-924-6462. Email: dinah@floralacres.com. Open: Call for hours and availability; the season for picking lasts from the second week of June 'til the first week of August, depending on how cold the Spring was, and whether we received a late frost or not.. Directions: See their website for directions. Payment: Cash, only. Our focus now at Floral Acres is our U-Pick blueberry operation. We currently (2010) charge $1/pint. Because we have so many bushes, with lots of different varieties; the season is long. These blueberries are organic, as the only thing we do to them is fertilize the ground, and mow the grass. We furnish buckets for picking and ice water – but you might want to bring your own straw hat for those hot summer days. (ADDED: July 06, 2010, suggested by a visitor)
Comments from a visitor on July 06, 2010: "The owner is very sweet and helpful, they have been in business for a while and know what they are doing. However, you are better off to show up earlier in the season rather than later. We came one year in mid August, and while we did manage to pick berries, there were much less than when we go in July. They raise all of their blueberries with organic practices. They used to do daylillies but are getting out of those and are more focused on blueberries. The farm is located less than a mile from the French Creek Game Farm, so it could be made into a good family outing of picking blueberries and visiting the game farm"
---
---
Local Honey Sources:
---
Meats, Milk and Eggs:
---
Farm Venues for Events, Activities, Parties and Meetings:
---
Horse Rides and More:
---
Winery, Brewery and Distillery Tours and Tastings:
---
Farm Bed And Breakfasts
---
Maple Syrup Farms and Sugarworks:
---
Wholesale Foods
Lewis County
Townsend Produce - Local sales at our farm, Local delivery, Regional delivery (see below for details), all produce is sustainably grown, Baked goods, Preserves, jams, jellies, Wide variety of seasonal fruits and vegetables, farm market
773 Raccoon Run Road, Weston, WV 26452. Phone: 304-269-3385. Email: dltowns1992@yahoo.com. Open: Monday to Sunday 8 am to 8 pm. Directions: I 79 North or South Exit 96 to Route 19 South of Weston to Right on Jennings Run Road to Left on Raccoon Run Road to the Two Story Yellow House on the Left. Click here for a map and directions. Payment: Cash, Check. We will plant,grow and harvest your fresh garden needs. Weekly produce Box or Seasonal Selection(s) of fresh veggies for canning or freezing or Root Celler. (ADDED: February 21, 2013)
---